Unstable ground: The fine line between self-defense and murder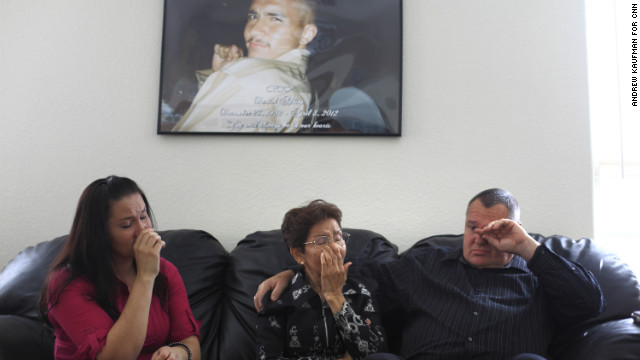 By Mallory Simon and Ann O'Neill, CNN
Laveen, Arizona (CNN) -- Daniel Adkins knew his son would never leave Lady. So when animal control officers showed up at the door with Daniel Jr.'s yellow lab in tow, "I felt like he was calling out to me for help."
Something was definitely wrong.
Adkins and his wife, Antonia, had searched the neighborhood just hours earlier, tracing their missing son's footsteps down two miles of dusty road to a cluster of strip malls. But they didn't make it as far as the Taco Bell. If they had, they would have come across the flashing police lights and the body of Daniel Jr., lying on the asphalt by the drive-thru window, with Lady by his side.
The next morning brought two police detectives bearing news that Daniel Jr., who was 29 but had the mental capacity of a 13-year-old, had been shot and killed. The shooter said he acted in self-defense. He has not been charged.
Adkins' death on April 3 marks the most recent chapter in America's debate over the right to use lethal force. The controversy has ricocheted from coast to coast ever since unarmed teenager Trayvon Martin was shot to death in Sanford, Florida, on February 26.
The Martin case renewed scrutiny of Florida's 2005 "Stand Your Ground" law after Sanford police initially declined to arrest Martin's shooter, a neighborhood watch volunteer. George Zimmerman has now been charged with second-degree murder but likely will invoke self-defense.
In Arizona, where the Adkins family lives, a similar law was enacted in 2006, tacked on to another gun bill after a gun rights lobbyist promoted it for 20 seconds in front of the Senate Judiciary Committee. Called "Make my Day," it says people have no duty to retreat before using deadly force to protect themselves anywhere they have the legal right to be.
Arizona and Florida are not alone in enacting these laws. Thirty-one other states also have laws that expand the use of deadly force beyond the home. People who kill armed intruders in their homes already were protected under the Castle Doctrine, the legal notion that your home is your castle and you have the right to use lethal force to defend it.
CNN reviewed four deadly force cases, each with a unique set of circumstances that tested the boundaries of Stand Your Ground laws. Each also raises questions about where the line is drawn between legitimate fear and vigilantism.
Is the use of deadly force justified when the attacker has no weapon and doesn't touch the person who feels threatened? If an intruder has been subdued, is shooting him or her justified? Can a person chase someone down and then claim self-defense? Are Stand Your Ground laws necessary or were existing laws enough?
Guns always have been a part of American life. The right to bear arms was addressed in the Second Amendment of the U.S. Constitution. But the law continues to evolve to this day, said Laurie Levenson, a professor at Loyola Law School in Los Angeles, California.
"When you arm people on the streets, the opportunities for tragic shootings like the one in the Martin case increase," Levenson said. "Having a broader law lends itself to situations where people shoot instead of pursuing non-lethal alternatives for self-defense."
The current debate over Stand Your Ground is healthy, Levenson added.
"It is good that people are starting to rethink what we have done," she said. "Given the number of guns on the street, it is important that people not use self-defense laws as an excuse for unjustifiable shootings."
A study commissioned by the National District Attorneys Association in 2007 tied the trend toward expanding self-defense laws to citizens' lack of confidence in the justice system in the wake of the September 11 terrorist attacks and Hurricane Katrina. People did not feel safe, and they did not trust their government to protect them.
But the expanded self-defense laws worry police and prosecutors, according to the study. Chief among their concerns: Could the laws lead to what the study called "an increasingly armed and trigger-happy citizenry?"
hot 'straight in the heart'
The confrontation that would catapult two more families into the middle of the lethal force debate began as the sun dipped below the horizon in Laveen, Arizona, a suburb southwest of Phoenix.
It was April 3 -- 37 days after Martin's death in Florida. Daniel Adkins Jr. walked past Taco Bell's drive-thru just as a 22-year-old man pulled around in his SUV to pick up his order. Sitting in the passenger seat was his pregnant fiancée.
CNN is withholding the shooter's name because he has not been charged with a crime. A police report describes how the deadly confrontation unfolded.
The driver slammed on the brakes, just missing Adkins. The two men exchanged words.
The shooter told police that Adkins "air swung" his hands in the direction of the SUV, but acknowledged he never hit him or his vehicle. Still, he said, he was afraid of what Adkins might do with the weapon he believed he was carrying. Although a weapon was never found, the shooter described it as a 3-foot metal pipe or bat.
When Adkins lifted his hands in the air again, the driver drew his Smith and Wesson .40-caliber handgun from his sweatpants. He pointed the barrel at Adkins from inside his car and racked the slide of the gun, putting a bullet in the chamber. Then he pulled the trigger.
Struck in the chest, Adkins fell to the ground, face first, clutching Lady's leash. The lab stayed at her master's side, even as the life drained out of him.
The shooter pulled around to the front of the Taco Bell as his fiancée called 911.
He told police he had no choice but to shoot. He said he couldn't drive away from Adkins because the dog was in the way and he "thought he had no other options," according to the police report.
While the shooter said he did not believe Adkins would have killed him and his fiancée had he not fired, he also said he feared Adkins was trying to hurt him.
Police turned over their findings to the district attorney's office. Prosecutors have sent it back for further investigation.
CNN was unable to locate the shooter but spoke with a man who identified himself as his father. The man didn't want to be named and stood behind the door of his home, warning that he had a gun in his hand. He defended his son's right to use deadly force.
He said witnesses at the scene told him that Adkins "went beserk" on his son, raising his hands and yelling: "What the hell, you almost hit me" and to "watch where the f*** you're going."
As the shooter's father recounted the events of that night, Adkins' family sat together in their living room a few blocks away, searching for answers. They believe their son was the victim of a trigger-happy young man.
Above the couch, Daniel Jr. seemed to look down at them from a photograph. They still can't believe that four weeks have passed and the man who killed him is free and in the same neighborhood where they live. They want to know: What else needs to be investigated?
Their thoughts turn to the funeral, and they begin to cry.
They bought Daniel Jr. a teddy bear for Easter but didn't get to give it to him. Instead, they placed it at a memorial for him at Taco Bell. Easter Sunday became a day to say goodbyes.
"We're at a funeral viewing my brother in a coffin while [the shooter] is at home with his family," said Marina Reyes, Daniel Jr.'s sister. "It's not fair to us. We need justice for Daniel. We need this guy behind bars because he does not deserve to be out."
The specter of Florida's Trayvon Martin case haunts both families.
The shooter's father worries that his son will be seen as another George Zimmerman."This is not like that case," the father said. "This guy was attacking my son."
Adkins' father worries that the politics swirling around the Martin case may give Arizona police and prosecutors cold feet about pursuing his son's shooter.
He believes in gun rights, but says people need to "be responsible and know when to use one."
"Why didn't he shoot my son in the leg? It would've stopped him. He hit him right straight in the heart. He shot to kill."
The loss of their son, and the circumstances in which he died, have tied the Adkins family to Trayvon Martin's. After Daniel Jr. was killed, they wrote Martin's parents a letter.
"Nobody knows the pain of losing a son in this way besides them," said Adkins' father. "His mother, she just wants justice for her son, just like we do. I'll go anywhere it takes, talk shows, make signs, whatever it takes."
"I'm not letting my son die in vain."
Reluctant symbol
James Workman never wanted to be the poster boy for the nation's first Stand Your Ground law. But an elderly hurricane victim made a compelling symbol.
Shortly after 2 a.m. on November 3, 2004, Workman shot and killed 35-year-old Rodney Cox, a FEMA worker from North Carolina who had come to his house near Pensacola, Florida, and asked for a drink of water.
Workman and his wife, Kathryn, were staying in an RV in the driveway of their home. Hurricane Ivan had made landfall seven weeks earlier, collapsing their front porch and peeling back the roof. The damaged house was unlivable.
It was a scary time on Florida's Perdido Key. People were camped out everywhere, and nerves were frayed. It felt like they were living in a war zone.